Schedule
June 2021 (UTC+7)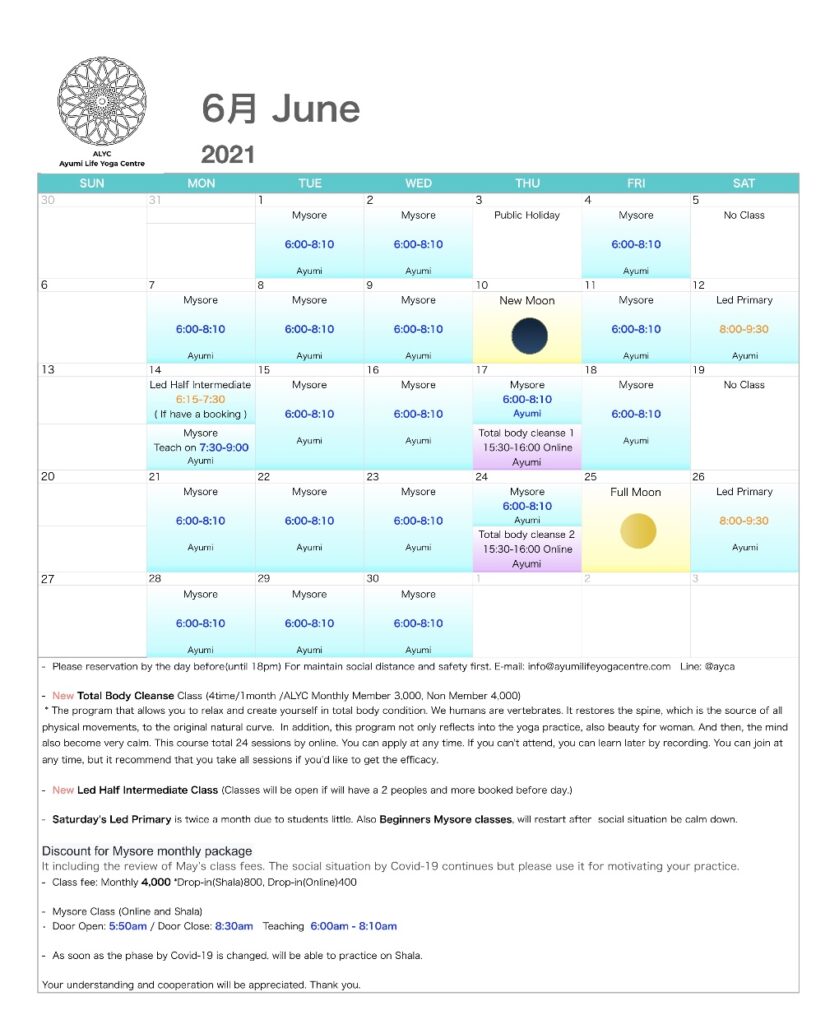 Students who received twice time vaccinated of Covid-19 and hope to practice at Shala will able to come and practice.  However please don't choose easily the vaccine just to practice. For your precious body.  Choose carefully for the future.  I will respect both cases without distinction, see your practice and guide you in the same way.
■ Class fee (June)
Discount including the review of May's class fees. The social situation by Covid-19 continues but please use it for motivating your practice.
Class fee: Monthly(Unlimited)

5,000

→4,000, New Students are 4,500,

*Drop-in(Shala)800, Drop-in(Online)400
■ Mysore Class 
Door Open:

5:50am

/ Door Close:

8:30am

 

Teaching

 

6:00am – 8:10am

There's a possibility that classes may be modified due to depending on the situation. In that case, We will change the expiration date of the package.
* Please aim to completed to your practice during teaching time and we kindly ask you to leave at until close time.
■ New Total Body Cleanse Class
Thursday 15:30
4time (1month) ALYC Monthly Member 3,000, Non Member 4,000
* The program that allows you to relax and create yourself in total body condition. We humans are vertebrates. It restores the spine, which is the source of all physical movements, to the original natural curve. 
Why is the stiff chest, back, and hips stiff and movement controlled? It is the spine that create the movements of muscles and ligaments etc. So, Put the spine of sauce back in place with easy workout and learn how to use easy the arms, legs, shoulders, back, chest, hips, total body with effortlessly.
In addition, this program not only reflects into the yoga practice, also beauty for woman. And then, the mind also become very calm.
This course total 24 sessions by online. You can apply at any time. If you can't attend, you can learn later by recording. You can join at any time, but it recommend that you take all sessions if you'd like to get the efficacy.
■ New Led Half Intermediate Class (Classes will be open if will have a 2 peoples and more booked before day.)
■ Saturday's Led Primary is twice a month due to students little. Also Beginners Mysore classes, will restart after  social situation be calm down.
■ Led Primary Class
– Saturday: 8:00am – 9:30am
■ Led Half Intermediate Class
– Monday: 6:15am – 7:30am
■ Holiday
Moon-day, Sunday and Public holiday
The true knowledge of Ashtanga yoga reach you when keep dedication and devotion everyday with teacher, without your feelings and mood (likes and dislikes). Good e essence never reach you if in the capricious practice. If you find it very difficult to practice every day, Let start with 3 days per week. If it's difficult even 3 days per week, Let practice to make the time first. It is leads to a commitment to yoga.
Please don't forget to wash your hands, gargle and measure the temperature before practicing.

There's a possibility that classes may be modified due to depending on the situation. In that case, We will change the expiration date of the package.

Please contact Line or E-mail about join or cancel.

(Until 18:00pm day before)
Line ID: @ayca
E-Mail: info@ayumiyogacentre.com
Your understanding and cooperation will be appreciated. Thank you.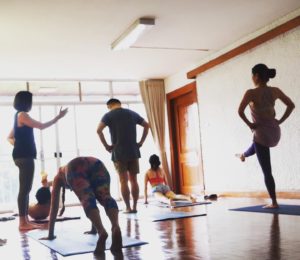 Contact
Line ID: @ayca
E-Mail: info@ayumiyogacentre.com
Thank you.
---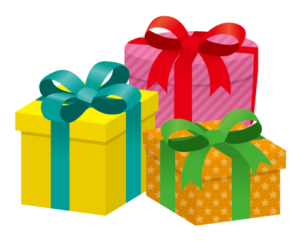 Happy Reward (Monthly All Class Member)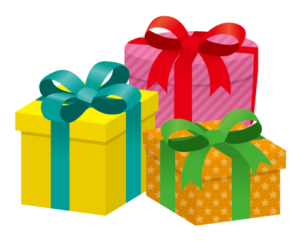 Remember your asana name and Vinyasa count to get knowledge rewards and special discounts! Please let me know when you want to challenge it. You can do it online nor face-to-face.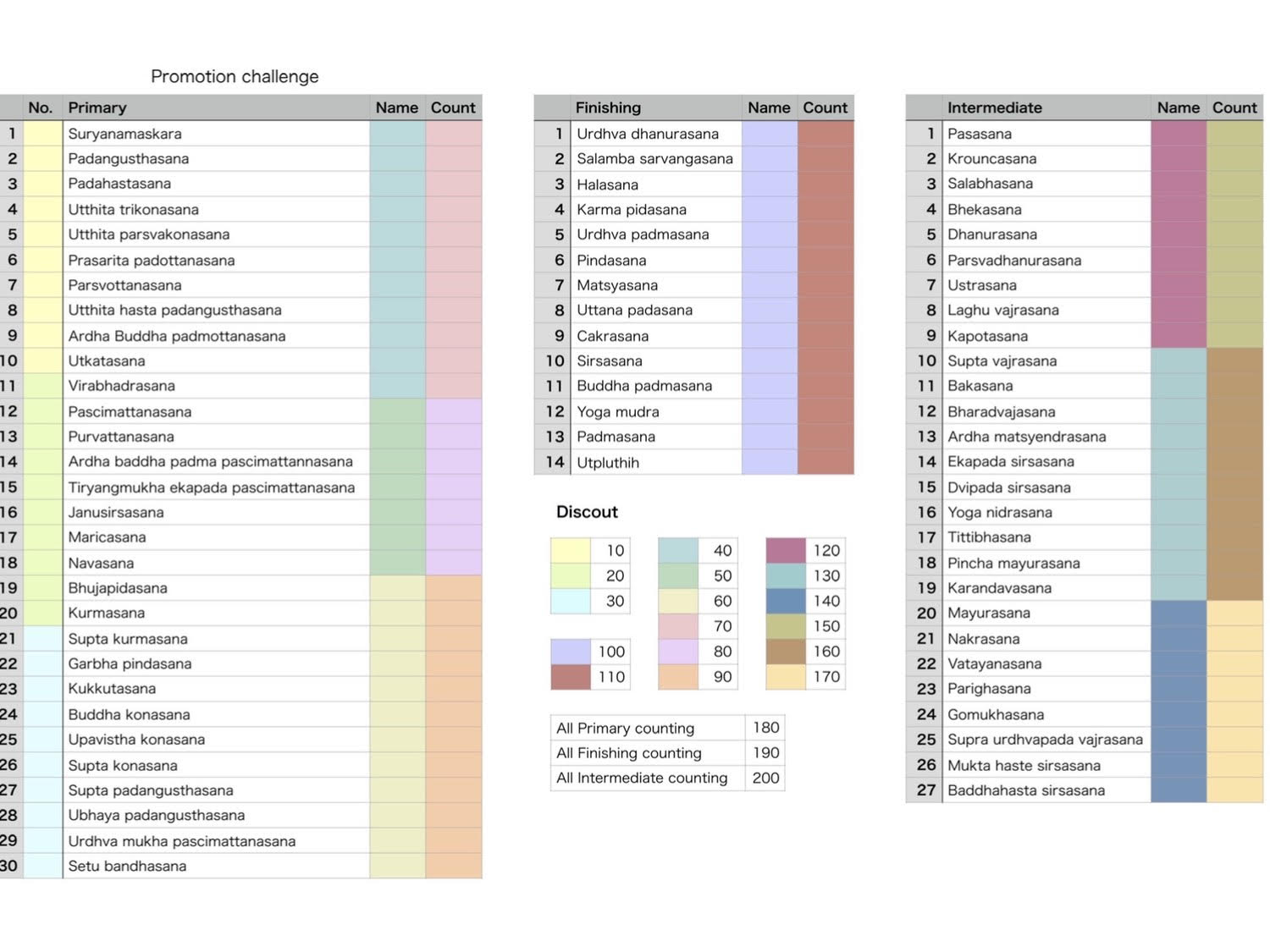 ---
YouTube Led Primary
For those who have difficulty go to Shala due to the Covid-19.
I tried to rec the video of Led Primary for our mind aim to calm. This video is a stay home style that even those who have difficulty in match up time due to time difference, parenting, or work can practice. I can't directly adjust or help, so I took the counting slow down a little than normal. The Doristi (point of view) is very important, so please try practicing that use just listening not look movement of video. And then, Please don't skip or ignore if you can't the asanas. When you arrive at your last asana, sit on the mat and wait quietly until before the closing sequence.

– Can Half-Primary and more asanas: Restart from "URDHVADHANURASANA" together.

– If you practice before "MARICA SANA": Restart from "BADDHAPADMASANA" together.
and don't overdo it.

May god bless you.