Schedule
January 2021 (UTC+7)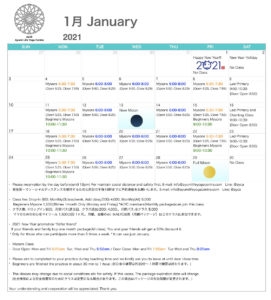 ■ 2021 New Year's Promotion "Refer friend"
If your friends and family buy one month package(All class), You and your friends will get a 50% discount it.
* Only for those who can participate more than 3 times a week. * It can use just January.
■ Mysore Class
– Door Open: Mon and Fri 5:25am , Tue, Wed and Thu 5:50am
– Teach: Mon and Fri 5:30am-7:30am , Tue, Wed and Thu 6:00am-8:00am
– Door Close: Mon and Fri 7:50am , Tue, Wed and Thu 8:20am
* Please aim to completed to your practice during teaching time and we kindly ask you to leave at until door close time.
■ Beginners Mysore
Mon10:00am-10:30pm Fri9:00-10:30pm
* Beginners practice are about 30min to 1 hour.
* No beginners class until second week of January due to children's school holiday.
– 3times 1,500 (within 30days, Only beginner's Monday and Friday)
* ALYC monthly members can join this class.
– Regular students who no childrens and continued practice for more than few months, Please join the Morning Mysore class as much as possible. Please consult us if you would like to join the begginer's class.
– Children can wait in the changing room.
■ Led Primary Class
– Door Open: 8:50am
– Teach:  9:00am -10:30am
■ Holiday
Moon-day, Sunday and Public holiday (respond to your request.)
Please contact Line or E-mail about join or cancel. (It can do Single or Multi booking)
Line ID: @ayca
E-Mail: info@ayumiyogacentre.com
Your understanding and cooperation will be appreciated. Thank you.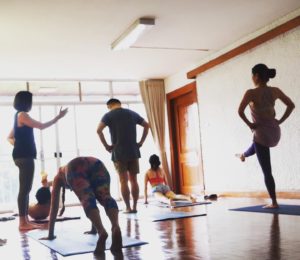 Contact
Line ID: @ayca
E-Mail: info@ayumiyogacentre.com
Thank you.
YouTube Led Primary
For those who have difficulty go to Shala due to the Covid-19.
I tried to rec the video of Led Primary for our mind aim to calm. This video is a stay home style that even those who have difficulty in match up time due to time difference, parenting, or work can practice. I can't directly adjust or help, so I took the counting slow down a little than normal. The Doristi (point of view) is very important, so please try practicing that use just listening not look movement of video. And then, Please don't skip or ignore if you can't the asanas. When you arrive at your last asana, sit on the mat and wait quietly until before the closing sequence.

– Can Half-Primary and more asanas: Restart from "URDHVADHANURASANA" together.

– If you practice before "MARICA SANA": Restart from "BADDHAPADMASANA" together.
and don't overdo it.

May god bless you.