Schedule
October 2022 (UTC+7)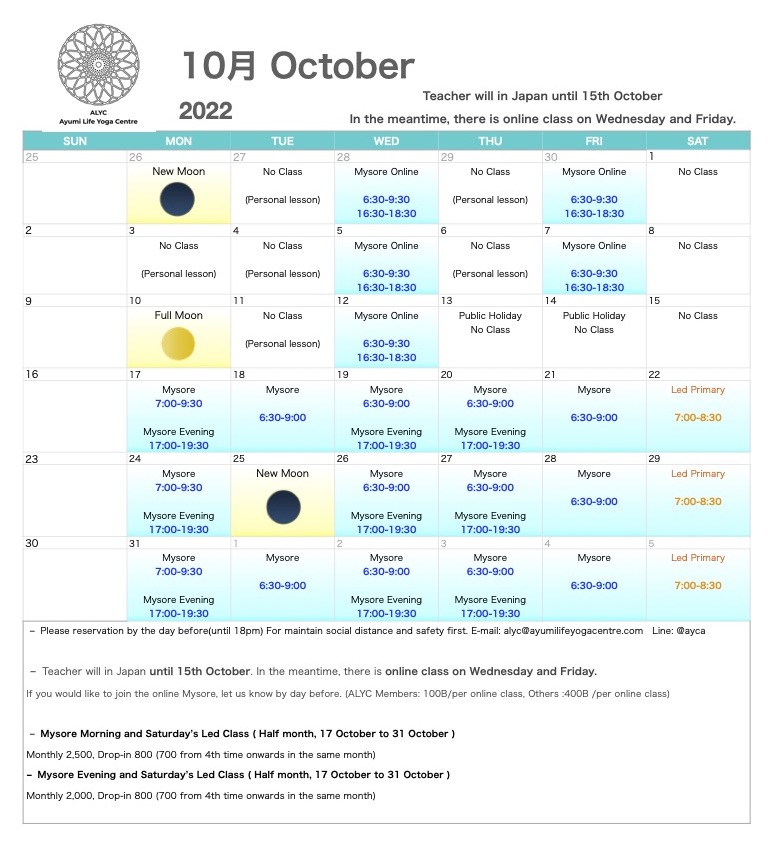 ■ Teacher will in Japan until 15th October. In the meantime, there is online class on Wednesday and Friday. 
If you would like to join the online Mysore, let us know by day before.
(ALYC Members: 100B/per online class, Others :400B /per online class)
■ Mysore Morning and Saturday's Led Class ( Half month, 17 October to 31 October )
Monthly 2,500, Drop-in 800 (700 from 4th time onwards in the same month)
■ Mysore Evening and Saturday's Led Class ( Half month, 17 October to 31 October )
Monthly 2,000, Drop-in 800 (700 from 4th time onwards in the same month)
Face to face class members need the 2 or 3 vaccinations certificate.
■ Holiday
Moon-day, Sunday and Public holiday
Please don't forget to wash your hands, gargle and measure the temperature before practicing.

There's a possibility that classes may be modified due to depending on the situation. In that case, We will change the expiration date of the package.

Please contact Line or E-mail about join or cancel.

(Until 18:00pm day before)
■ New information
We will start spinal manipulation therapy from October.
What is spinal manipulation therapy?
Spinal manipulation, also called spinal manipulative therapy or manual therapy, combines moving and jolting joints, massage, exercise, and physical therapy. It's designed to relieve pressure on joints, reduce inflammation, and improve nerve function. It's often used to treat back, neck, shoulder, and headache pain. Chiropractors use it to treat other disorders too, such as menstrual pain and sinus problems.
How Current Methods Evolved
Modern spinal manipulation traces its roots to nineteenth century America. Disillusioned by the deaths of his three children, a doctor named Andrew Taylor Still developed the theory that diseases were caused by displaced bones and muscles interfering with the body's circulatory system. He turned to spinal manipulation as a non-drug, holistic method of correcting body imbalances and restoring health. In doing so, he became the father of modern osteopathy.
Daniel David Palmer developed the theory that diseases were caused by spinal misalignments, or subluxations, that block the transmission of the body's own healing power through the nervous system. His theories would eventually form the basis of chiropractic medicine.
Studies have shown that spinal manipulation can be as effective as therapeutic approaches such as exercise, massage, and physical therapy, providing mild to moderate relief from back pain in some people.
In their 2007 pain guidelines, the American College of Physicians and the American Pain Society list spinal manipulation as an option for complementary therapy when self-care does not improve low back pain. A 2010 report from the US Agency for Healthcare Research and Quality (AHRQ) added that complementary therapies, including spinal manipulation, help reduce common neck and back pain.
Your understanding and cooperation will be appreciated. Thank you.
Contact
Line ID: @ayca
E-Mail: alyc@ayumiyogacentre.com