Schedule
August 2022 (UTC+7)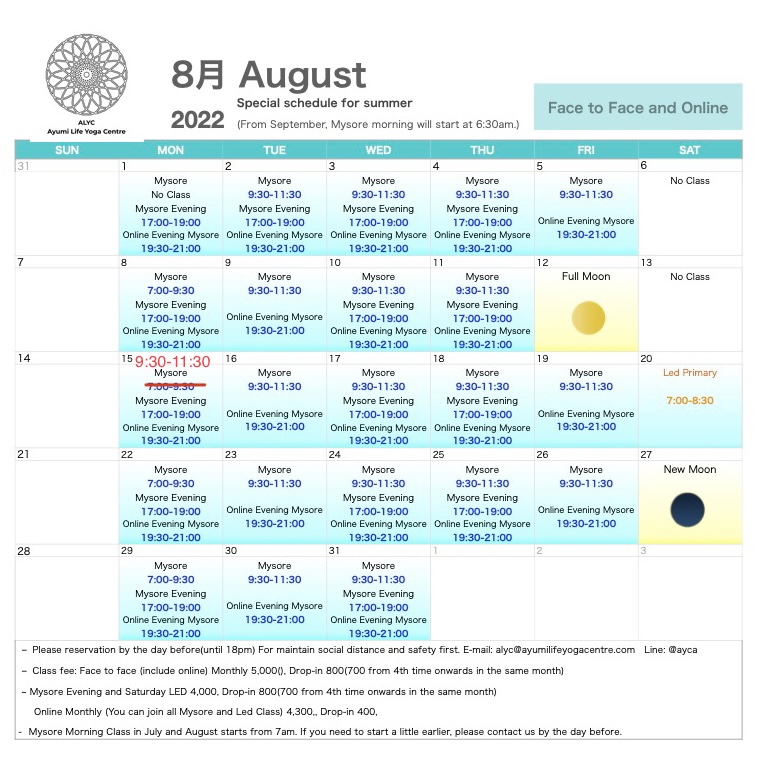 Keep the practice time. 
■ Mysore Class (Face to Face and Online) 9:30am-11:30am Only Summer Season
Mysore Morning Class in July and August starts from 9:30am (Monday of August is start from 7am) . If you need to start a little earlier, please contact us by the day before.
■ Mysore Evening Class (Face to Face and Online)
 Monday, Wednesday and Thursday 17:00pm-19:00pm
■ Online Mysore Evening Class (Online)
 Monday to Friday 19:30pm-21:00pm
■ Led Primary Class Saturday 7:00am – 8:30am
– Face to face (including online) Monthly 5,000, Drop-in 800(700 from 4th time onwards in the same month)
– Mysore Evening, 13th Mysore Morning and Led Primary. Total 10classes 4,000 
– Online Monthly (You can join all Mysore and Led Class) 4,300, Drop-in 400,
Face to face class members need the 2 or 3 vaccinations certificate.
■ Total Body Cleanse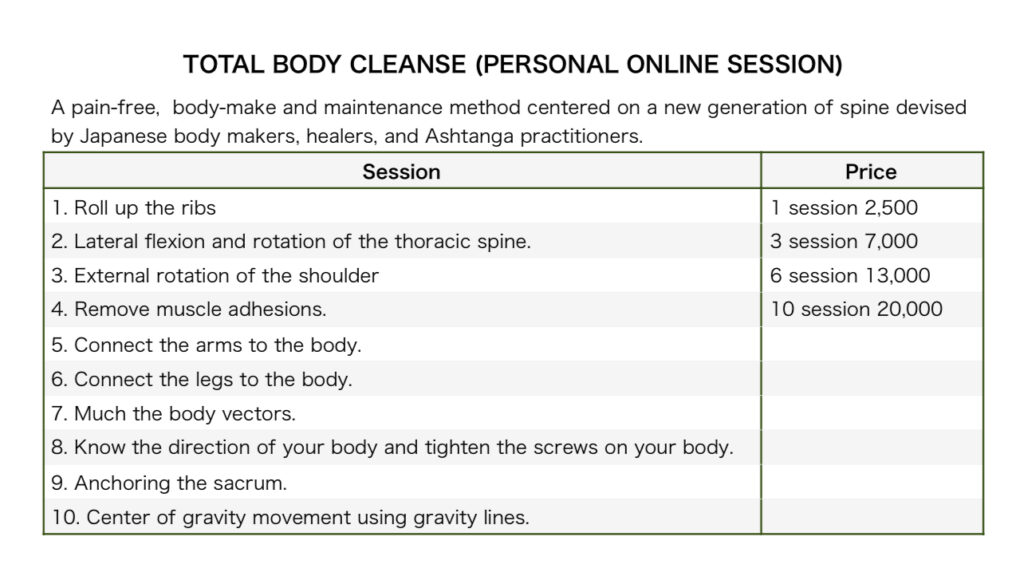 ■ Holiday
Moon-day, Sunday and Public holiday
Please don't forget to wash your hands, gargle and measure the temperature before practicing.

There's a possibility that classes may be modified due to depending on the situation. In that case, We will change the expiration date of the package.

Please contact Line or E-mail about join or cancel.

(Until 18:00pm day before)
Your understanding and cooperation will be appreciated. Thank you.
Contact
Line ID: @ayca
E-Mail: alyc@ayumiyogacentre.com